$decoded_title = html_entity_decode ($title); ?>
The Team
An International Production
Friends and Heroes has been produced by Friends & Heroes Productions Ltd, a company operating in the Isle of Man.
All pre-production and design work was carried out in the UK by a highly experienced animation team, with the script-writing team based in Los Angeles, USA. Voice recordings were undertaken in Toronto, Canada and the animation was created in England and Korea. Post-Production was completed at BBC Wales, Cardiff.
Through Macky and Portia, Friends and Heroes brings the inspiring stories of the Old and New Testaments to a new, worldwide generation of children in the twenty-first century, whatever their faith or background. Like our heroes, children will be empowered by what they see and hear, as they share the courage and compassion, the everyday dangers faced by Macky and his friends. And what Macky learns is that one person can make a difference - as a friend, or as a hero.
---
Brian D Brown & Eric J Danenberg - Joint Series Creators
Brian and Eric were also involved in writing for the Storykeepers project.
---
Gary Kurtz - Supervising Producer - Series 1
The award-winning producer of many films including American Graffiti, Star Wars and The Empire Strikes Back, has been active in the UK animation, television and film industries for the last fifteen years.
---
Naomi Jones - Producer - Series 2 & 3; Senior Line Producer - Series 1
Naomi is based in Swansea, Wales. Her impressive list of past projects includes the S4C/BBC production of Testament and the animated feature film The Miracle Maker.
---
Dave Osborne - Supervising Director
Dave is a leading animation director with a wide range of credits for several major UK animation producers, including Cosgrove Hall Animation and Telemagination.
---
Alan Batson - Production Designer
Previously an advertising Art Director, Alan was trained by the Walt Disney Company and has operated a freelance career for over 15 years, working closely with Disney on Standard, Classic and Pixar characters, and has designed characters, merchandise and publishing on projects for a varied client base including Hanna-Barbera, 20th Century Fox, Warner Bros, BBC and Hasbro.
---
Karl Twigg & Mark Topham - Music Composers
Karl and Mark created many hits for Pete Waterman Limited and were responsible for composing the stunning title track for Friends and Heroes and all its background music.
---
Lauren Waterworth - Lead Vocalist
The powerful voice on the Friends and Heroes title track, Looking for a Hero, belongs to Lauren Waterworth. Lauren has toured the UK with No 1 boy-band 'Westlife' and appeared on the BBC's 'Songs of Praise' Christmas Special alongside Sir Cliff Richard. She was thrilled to be asked to record Looking for a Hero with Topham and Twigg.
---
Stan Berkowitz - Series Editor
Based in the USA, Stan has received seven EMMY nominations and two EMMY awards for his previous work. He has 20 years' experience in writing animation scripts for many different studios and broadcasters. He recently completed a long term commitment to Warner Brothers TV Animation, and headed a team of experienced writers for Friends and Heroes. Recent writing credits include Superman, Batman and Justice League.
---
Tony Pastor - Voice Director, Series 1 & 2
Tony has directed and/or story edited over 750 hours of television programming including such hits as Spider-Man, The Silver Surfer, Peter Pan, The Avengers and The BackStreet Boys series. He is also a recording artist, a record producer, a writer, and an accomplished stage and film actor. In 1990, Tony established Pastor Productions to produce family entertainment for theatrical, television and home video markets. In 1998, Tony became Vice President of Creative Affairs at Stan Lee Media.
---
Stephen Gaukroger - Senior Biblical Advisor
Stephen is the author of over twenty books on Biblical and Leadership themes. He is currently Director of Clarion Trust International, an international conference speaker and was previously Senior Minister of Gold Hill Baptist Church, one of the largest churches in the UK.
---
Alison Dorricott & David Dorricott - Executive Producers
Based in the Isle of Man and with backgrounds in the Software industry and in Education, David and Alison are the Executive Producers of Friends and Heroes. They provide business management and financial control support for the production, they are also actively involved in the marketing of the series. David and Alison also continue to develop AFD Software Ltd, which has been a core financial supporter of Friends and Heroes.
---
Starburst Animation - 2D Animation - Series 1
Established in 1998 in Seoul, Korea, with a team of some 250 animation artists, Starburst produced almost 300 half-hour shows, as well as several theatrical and DVD features. Clients included Nelvana, DreamWorks, Cartoon Network, Walt Disney TV Animation and Marvel Entertainment.
---
The CharacterShop - 3D Animation, Series 1
Charactershop's 3D studio in Birmingham, England, is led by Paul Howell, and has won awards at the Annecy and Holland Animation Festivals, as well as Promax UK, BDA (USA) and Royal Television Society.
---
GIMC - 2D & 3D Animation, Series 2 and 3
Gangwon Information and Multimedia Corporation (GIMC) was set up in 2002, under the chairmanship of Dr H.S.Park. As a company their stated aim is to develop opportunities for young Korean animation innovators and creators, initially by involvement in international co-production work, and eventually developing and marketing home-grown animated productions. Co-production partners since 2003 have included Warner Bros, Nelvana Group, Sony USA and Nickelodeon. The company is particularly proud of its co-production involvement in the Danger Rangers series, which aired on over 125 stations across the USA alone. The company's main production facility is in the lakeside city of Chuncheon in South Korea, also having animation studio facilities in the capital city, Seoul.
---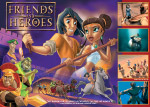 To find out more about Friends and Heroes and the team click on the image or here
---