$decoded_title = html_entity_decode ($title); ?>
Homeschool Unit Studies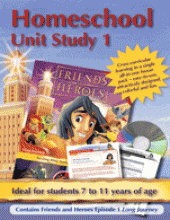 Cross-curricular Homeschool curriculum inspired by Friends and Heroes' award-winning, animated adventures and Bible stories!
That's what the Friends and Heroes Homeschool Unit Studies offer you and your family!


Each Unit Study includes a Friends and Heroes episode which inspires the teaching material, plus PDF files containing the self-guided student manual and a comprehensive teacher's guide with internet links, background information and teaching support.

Available individually or as a series of 13 Units and featuring both Old and New Testament stories, this material is absolutely unique and very engaging for both students and their families! Thrill to the adventures of Macky and the Friends of Jesus as they resist the Romans and learn from the exciting Bible stories they share.
13 Unit Studies available
Each features two themed Bible stories (usually one Old and one New Testament). They are renewable and reusable—use with multiple students in your family simultaneously or over multiple school years...and there's nothing more to buy!
You can try Friends and Heroes curriculum FREE for a week!
Click the tab below to learn more.
Each Unit Study is easy-to-use, attractively designed, colorful and fun.  Each Unit Study covers:

History/Geography
Creative writing
Bible study
Science (creation-based)
Crafts
Discipleship

With all subjects taught from a Christian worldview!
Self-guided Student Manual
Learner-centered
Printable and reusable--use with multiple children simultaneously or over multiple school years

Full Teacher's Guide
Plenty of hands-on activities to encourage kinesthetic learners and to keep younger fingers busy
Answer keys
Dozens of internet links for lesson enrichment and further learning

Series Teachers' Overview
A helpful introduction to and overview of the Unit Study material


Friends and Heroes DVD
Contains a full-length adventure episode with at least two Bible stories to serve as stimulus material for cross-curricular studies.


You can view a summary of the learning objectives, themes and curriculum links for all 13 Unit Studies for our Series 1 Homeschool Curriculum.
Download Learning Objectives
Yes, it's really free and there's no credit card information to enter. Just visit our
curriculum sample request page
and enter a few basic details then you'll receive an email with links and instructions to download a week of curriculum today!
Scripture memory cards are available which correlate with each of our 13 Unit Studies for our Series 1 Homeschool Curriculum.
Download Scripture Memory Cards
"I give this curriculum an A+ for homeschoolers!
" 
Gena Suarez, Publisher, The Old Schoolhouse Magazine®
---
"...even my 'older' two kids (ages 15 and 13) enjoyed watching the DVD with my 7-year-old although they might not want to admit it! They thought it was really neat how the stories that the children told were actually the true stories of what actually happened in history and the Bible while the characters in the DVD and their adventures are fictional. I personally liked it because that made it easier for my 7-year-old to understand which parts actually happened and which parts were made up."

WH, Homeschool Parent
---
"The art and animation in this series is exceptional and the story is captivating. Both my 12 year old and 5 year old granddaughters loved it. They are already asking for more. My girls were thrilled with having the opportunity to use this curriculum and are eager for more. I enjoyed the clear instructions given in the Teacher's Guide and appreciated the amount of thought and study that went into preparing this resource. There is much to enjoy here." Christine Hindle, Reviewer, The Old Schoolhouse Magazine — click here to read review
---
"I love the way the curriculum integrates a variety of subjects in a seamless manner. My children love the DVD episodes and are really drawn into learning."  LS, Homeschool Parent
---
"Professionally crafted by award winning artisans, Friends and Heroes combines the best in video entertainment with godly values, and a wholesome standard that can only be gleaned from the pages of Scripture. Certainly, without exaggeration, no homeschool video library would be complete without Friends and Heroes."  Paul A. Suarez, Publisher, The Old Schoolhouse Magazine
Choose one of the options below for the details on how to purchase Friends and Heroes Homeschool Unit Studies. There are 13 in all which can be purchased individually or in a collection.
Note: Curriculum downloads are only available from the Friends and Heroes webstore.
For information about Friends and Heroes other curriculum lines, click
here
for School Curriculum or click
here
for Church Bible Curriculum.